A low-cost water purification device that has been in development for more than three years was introduced on 7 December 2009 by India's Tata Chemicals, which says the device is designed for use in rural households that have no electricity or running water..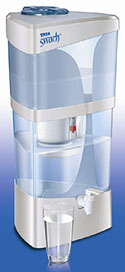 The Tata Swach — Hindi for "clean" — also happens to meet US Environmental Protection Agency standards for removing microorganisms as well as off-color and off-taste, an AFP report claimed. AFP, quoting a newspaper report, said the device will be priced less than 1,000 rupees (US$21.75).  Tata Chemicals said it would cost 30 rupees  per month (US$ 0.64) for a family of five. The Pureit, a similar device produced by Hindustan Unilever, retails for 2000 rupees ($42.92), with a replaceable battery kit that costs 365 rupees ($7.80).
The Swach combines low-cost ingredients such as rice husk ash with nanotechnology.  It uses ash from rice milling as a matrix, impregnated with nano-silver particles particles to kill the bacteria that cause 80 percent of waterborne disease, executives said in a report in Business Week.
While Tata's device may be suitable for treating surface waters, it does not remove chemical contaminants like arsenic or fluoride, which are common in groundwater, used by 80 per cent of rural Indians.
The device has a 9.5-liter capacity and can filter 3,000 litres until the cartridge has to be replaced. A cartridge would last about 200 days for an average family of five,  Tata Chemicals managing director R. Mukundan.
Business Week reported that Tata executives plan to invest 1 billion rupees (US$21.6 million) in the project over the next five years. The initial production will be 1 million units a year from a Tata Chemicals plant in Haldia, West Bengal, with plans to increase production to 3 million units annually within five years.  Mukundan said the company would eventually look to sell the device in sub-Saharan Africa as well.
The Tata Group said it will distribute the device using distribution networks of Rallis, Tata's agrochemical subsidiary with more than 30,000 retailers in rural India, and Tata Kisan Sansar, a farm services business run by Tata Chemicals, which reaches 2.5 million farmers.
Source: Tata Chemicals, 07 Dec 2009 ; WaterTech Online, 07 Dec 2009 ; Business Week, 07 Dec 2009